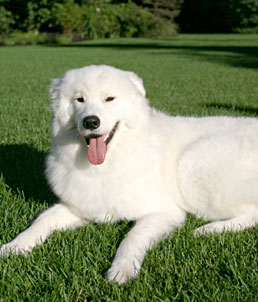 Serena the Samoyed
From standoffish to satisfied

Serena had a classic "Leave me alone!" personality. She would give hollow stares when praised, yawn when offered a treat, and turn the other way when her owner wanted to pet her. Serena found her way into training class after she made several attempts at running away. Her personality was not one conducive to a successful training program — especially since she was not accepting of rewards.

Serena's owner was asked to not speak to her for one week except to put her leash on or crate her. For the first few days, Serena didn't seem to notice the family wasn't speaking to her — she went around the house in her usual fashion, ignoring them all. Although difficult, Serena's owner kept it up. Finally, on the sixth day, Serena exploded. She began throwing toys at them, nudging her nose under their hands so they would pet her, and offering "sit" after "sit" so they would praise and reward her with treats. From that day forward, the relationship was improved — the family finally owned a dog that wanted and enjoyed attention and interaction. Additionally, she became a model student who learned to earn praise from her family by obeying basic (and life-saving!) obedience commands.