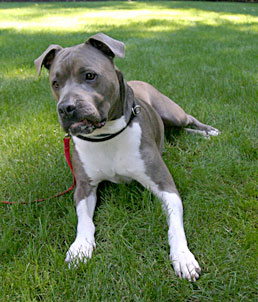 Muffy the Pit Bull
Looking at training through a dog's eyes

Muffy's owner reported that she taught her pit bull to sit in five minutes. It sounded like quite a feat, except that each time the dog sat, she would take her paw and hit her owner on the leg. The owner sheepishly admitted that Muffy did this every time, but that she ignored the behavior since she was just happy to have the dog sit.

After observing Muffy's sit a few more times, the reason for the behavior was identified. Each time the dog sat and slugged the owner's leg with her paw, she received a treat. Muffy thought she was being rewarded for the sit and the foot action. Although the owner thought she was ignoring the behavior, she was actually rewarding it! It took about 20 minutes to re-train Muffy to sit without the foot action.

This experience is a good illustration of two points. First, we may know why we are rewarding our dog, but the dog may have a different interpretation of why he or she is being rewarded. Second, the answer to a training problem can be as simple as seeing the situation through the dog's eyes.